Matthew Lewis/Getty Images
And then there were none.
After so many rumors, so many names and so many hopes, the January transfer window passed by without any signings at Liverpool, and Brendan Rodgers will be tackling the remaining fixtures of the 2013/14 Premier League season with the squad he had at his disposal when the campaign started in August.
Amidst their injury crisis, Liverpool needed to strengthen, not only to make up for their absentees, but to inject quality into the first team and to better equip themselves for what promises to be a tough fight to finish in the top four.
With no new arrivals at Anfield and a quintet of names to leave the club, either on a permanent basis or on loan, the Reds' shortages and problems have been left by the hierarchy to the summer, when surely there will be questions asked again of the transfer policy.
But for now, what can we make of their past month?
Here's a breakdown of Liverpool's January activities, featuring exits, loans, near misses, and an analysis of their transfer approach. Let us know your thoughts below.
Exits: Adam Morgan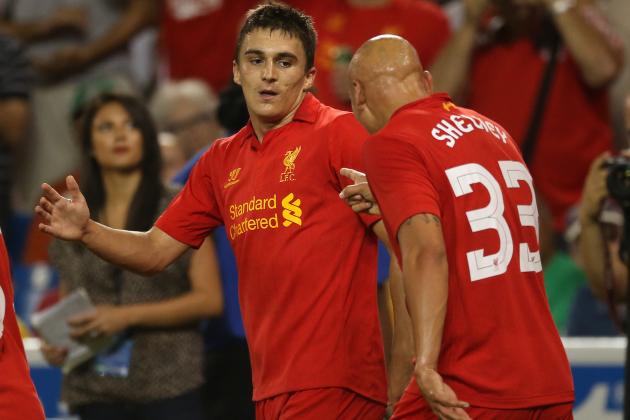 Tom Szczerbowski/Getty Images
Only one player departed Anfield on a permanent basis this January, and that was young striker Adam Morgan to Championship club Yeovil Town.
Morgan had already been at Yeovil since late November, of course, having joined them on loan with an option to make the deal permanent in January.
Long tipped as one of the most natural finishers to emerge from the Liverpool academy in years, Morgan had made three first-team appearances for the Reds, with his senior debut coming as a 90th-minute substitute in an August 2012 Europa League clash against Hearts.
But with the goal-scoring form and telepathic partnership enjoyed by Luis Suarez and Daniel Sturridge, and the development of Fabio Borini on loan at Sunderland, Morgan's path to the first team looked ever trickier, and a permanent departure probably always looked the likeliest outcome.
Loans: Tiago Ilori, Ryan McLaughlin, Michael Ngoo, Craig Roddan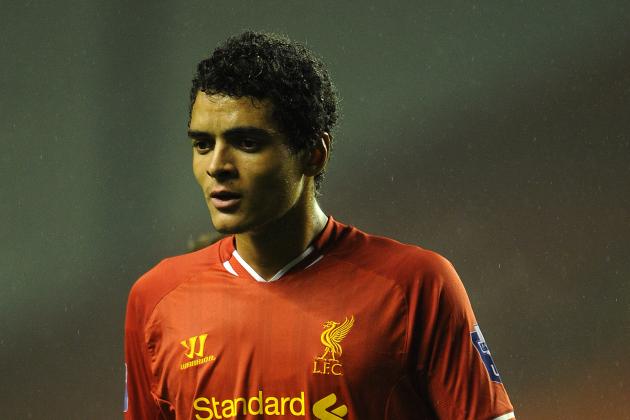 Chris Brunskill/Getty Images
A total of four players went out on loan from Liverpool this January, but their long-term futures at the club may be in stark contrast after their temporary spells away from Anfield.
Tiago Ilori (Granada)
Having signed for Liverpool from Sporting Lisbon on deadline day last summer, Tiago Ilori joined La Liga side Granada on loan until the end of the season in January.
Highly regarded for his defensive capabilities and searing pace, Ilori failed to make a first-team appearance in his first six months with the Reds, which, given the injury crisis that struck the Liverpool central defence, was perhaps an indicator of his status as a player for the future.
A £7 million buy in the summer, Ilori now has the chance to justify his price tag and build up his senior-level match fitness at Granada. An important few months ahead of him.
Ryan McLaughlin (Barnsley)
While Ilori headed to Spanish shores, just like compatriot Suso, another defensive prospect joined Barnsley in the Championship.
Ryan McLaughlin made his first appearance for Liverpool in their 2012 summer tour of the USA, where he impressed against AS Roma legend Francesco Totti in a preseason friendly against the Serie A side.
Long tipped to be Liverpool's next right-back for years to come and a potential heir to Glen Johnson down the right, McLaughlin now has a chance to show his ability week in, week out at Championship level and will be keen to impress any watching scouts from his parent club.
Michael Ngoo (Walsall)
While Ilori and McLaughlin are two hot prospects looking to gain first-team experience out on loan and force their way into the squad next season, two other loan departures will in all likelihood be the beginning of the end of their Liverpool careers.
Michael Ngoo, who scored four goals in the Scottish Premier League on loan at Hearts in 2013, joined League One side Walsall on loan this January, where he will be looking to pick himself up after an underwhelming spell at Yeovil Town was cut short earlier this season.
Like his reserve teammate Adam Morgan, Ngoo might not possess the required quality to star in a top-four-chasing Liverpool squad for seasons to come. If he impresses at Walsall, he might earn himself a permanent suitor come the end of his loan spell.
Craig Roddan (Accrington Stanley)
Young midfielder Craig Roddan joined Accrington Stanley on a month-long loan deal in January, which will also likely lead to a career continued outside of Anfield.
With a host of established names ahead of him in the first team and a few hot prospects coming through the academy, Roddan's days as a Liverpool player look numbered as he will surely prepare to leave the club without ever having made a first-team appearance for the Reds.
League Two football will be quite a few levels down from what he's been used to at Anfield.
Near Misses: Mohamed Salah, Yevhen Konoplyanka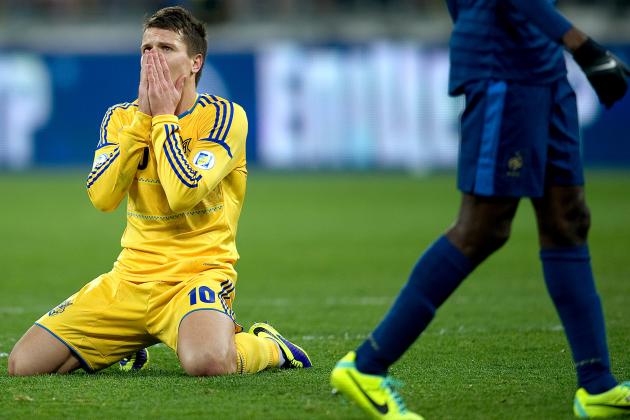 Adam Nurkiewicz/Getty Images
For all the exits at the club, Liverpool's January transfer window will be remembered for their much-publicized near misses that have caused consternation among Reds fans.
Mohamed Salah (FC Basel to Chelsea, £11 million)
Linked heavily with Liverpool before and during the first few weeks of the January window, Mohamed Salah is a pacy and exciting winger who would've added quality to Brendan Rodgers' first team.
A protracted negotiation with FC Basel officials lasted two-and-a-half months, according to Salah's agent Sascha Empacher via the Mirror, and ultimately ended in Chelsea snagging the Egyptian forward for around £13.5 million, with a down payment of £11 million, which Liverpool didn't meet.
Rodgers has since stated that he was disappointed that Salah joined Chelsea and that the near miss was "difficult to take," according to the Guardian. Yet another name missed out by the Reds to add to the high-profile summer contingent featuring Henrikh Mkhitaryan, Diego Costa and Willian.
Yevhen Konoplyanka (FC Dnipro)
Where the Liverpool hierarchy failed and dallied in their pursuit of Salah, they certainly didn't in their subsequent approach for Yehven Konoplyanka of FC Dnipro, according to Rodgers via the Liverpool Echo.
This time, the player had passed a medical and agreed personal terms on deadline day, but the bottleneck was instead at the refusal of Dnipro's owner to sign the relevant paperwork.
While Dnipro and Liverpool's versions of the confusing saga predictably differ, the same Echo article states that they have seen paperwork confirming a full fee transfer more than two hours before the transfer deadline.
Unlike Salah, though, Konoplyanka didn't end up moving to another club, and Rodgers has refused to rule out another approach for the Ukrainian winger this summer. Better luck next time?
Approach: Top-Heavy and Too Little, Too Late
Chris Brunskill/Getty Images
From their near misses, we can observe that Liverpool's top transfer priorities for January wasn't to shore up their shaky defence or a thin midfield, but rather to strengthen up front: Both Salah and Konoplyanka are wingers that would have brought pace, dribbling, vision and goals from the flanks.
Whether this was because of Brendan Rodgers' famous fondness for attacking football and desire to add to an already fearsome strikeforce, a curious lack of recognition of their need to reinforce a defence and midfield low on numbers and world-class quality, or simply a lack of available targets, we'll never know.
But what we do know is that Liverpool took too long in securing their primary transfer targets, leaving Salah to opt for Chelsea and Konoplyanka to end up an opportunity missed.
The long time it took for Liverpool to negotiate with FC Basel led to frustration from Salah's camp, while that in turn led to a late, late move for Konoplyanka that no doubt also frustrated the Dnipro hierarchy.
The result? A fruitless January transfer window that had promised so much but in the end delivered so little.
Conclusion: Massive Improvements Needed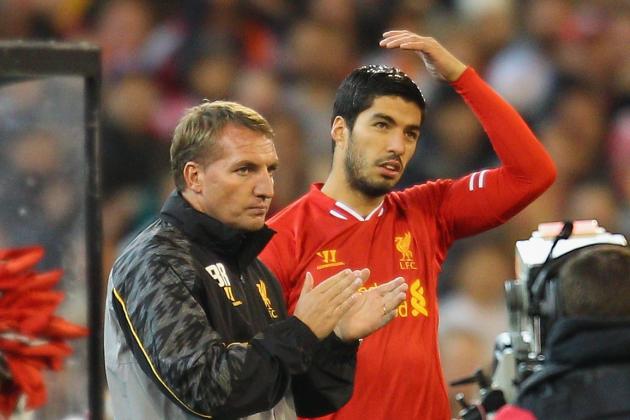 Scott Barbour/Getty Images
In evaluating Liverpool's transfer record, while taken in isolation this January was disappointing, we must give credit to the business done last summer and especially last January.
While it's fair to say that the Reds' transfer record during Brendan Rodgers' time hasn't been stellar, the unequivocal success of Daniel Sturridge and Philippe Coutinho, added to the encouraging signs shown by Simon Mignolet, Mamadou Sakho and at times Joe Allen, means that there is still the right eye for a player and a transfer fee somewhere in the upper echelons of the Anfield club.
The biggest ramification of an underwhelming and frustrating January transfer window has to be that Liverpool have to approach the season-end run-in with the same squad they've had all season, accounting for injury losses.
Now it's down to Rodgers' man and squad management to see Liverpool solidify their hold on their current fourth place.
If he does and the club are able to use the funds set aside for January transfers in the summer with Champions League football in their arsenal, then it could prove to be a winter well spent.
The flipside, though, is what's worrying.
This article first appeared on Bleacher Report, where I contribute regularly on Liverpool and the Premier League.