After Liverpool's frustrating draw against West Bromwich Albion last Sunday, the Reds now find themselves fourth in the Premier League table, with 47 points and a goal difference of +29 from 24 games.
An underwhelming January transfer window ultimately saw no new arrivals at Anfield, which means that Brendan Rodgers will be taking on his last 14 games of the season with the same squad he started it with, and with a few injuries currently on list.
But push on he and his charges must, starting with an important clash with Arsenal at home this Saturday.
And what lies ahead of the Reds for the rest of the season? Here's a complete set of previews and predictions of all of Liverpool's remaining 14 Premier League games of the 2013/14 season. Let us know your thoughts in the comments below.
Liverpool's remaining 14 Premier League fixtures are as follows:
Arsenal (H), Fulham (A), Swansea City (H), Southampton (A), Sunderland (H), Manchester United (A), Cardiff City (A), Tottenham Hotspur (H), West Ham United (A), Manchester City (H), Norwich City (A), Chelsea (H), Crystal Palace (A), Newcastle United (H)
February 8: Arsenal (Home)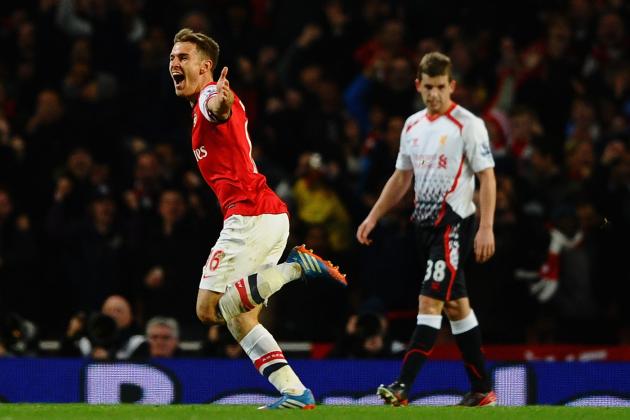 Laurence Griffiths/Getty ImagesLiverpool's last league win against Arsenal came in August 2012, and we'd have to go way back to March 2007 for the victory before that.
Suffice to say, then, that the Gunners have been a bit of a bogey team for the Reds in recent seasons.
The reverse fixture at the Emirates Stadium this season ended in a 2-0 win to Arsene Wenger's men, as the visitors were quite comprehensively outplayed by a masterful midfield performance, with Aaron Ramsey at the heart of almost everything positive the home side had to offer.
Ramsey might not be able to make Saturday's game in time due to injury, but in his place Alex Oxlade-Chamberlain has blossomed in a central midfield role, while Jack Wilshere might also return.
Joe Allen's anticipated return to Liverpool's starting XI, however, will add some much-needed stability and balance to the Reds midfield. With Daniel Sturridge and Luis Suarez in ominous form and Liverpool's fearsome home record this season, this looks likely to end in a home draw at Anfield on Saturday.
Prediction: 1-1 Draw
February 12: Fulham (Away)
Liverpool's next midweek fixture comes a week from this Wednesday, when they travel to Craven Cottage to take on bottom-placed and relegation-threatened Fulham.
Rene Meulensteen deserves credit for addressing his side's shortages and weaknesses in January, and in Lewis Holtby and Kostas Mitroglou he might just have found two players with the right quality to turn their season around.
But the Cottagers defence and midfield will be facing a Liverpool attack in buoyant mood and looking to consolidate their position in the league table.
Expect Liverpool to roll over Fulham for a clean and easy three points.
Prediction: 4-1 to Liverpool
February 23: Swansea City (Home)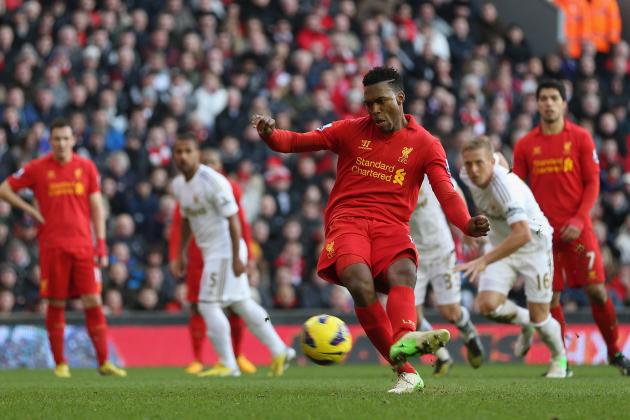 Clive Brunskill/Getty ImagesBefore Swansea City got promoted to the Premier League for the first time for the 2011/12 season, Liverpool's last encounter with the Swans was in 1990, when they dished out an 8-0 hammering in the FA Cup.
Since then, however, barring a 5-0 home win at the end of last season, things have been a lot closer between the two sides: In fact, that 5-0 win was Liverpool's only victory in their last six meetings.
But this season, Swansea have dipped just ever so slightly. With just 24 points on board from 24 games so far and just two over third-from-bottom West Ham United, they lie perilously close to the relegation zone and look short of confidence.
If Michael Laudrup doesn't turn it around soon, the result on February 23 will be closer to last year's five-goal hammering than to last September's 2-2 draw at the Liberty Stadium.
Prediction: 4-0 to Liverpool
March 1: Southampton (Away)
Since Mauricio Pochettino took the reins at Southampton, he's played and beaten Liverpool twice in the league in the space of just over six months.
With the Saints' brand of relentless, physical and energetic football, complete with a quick, strong and young midfield core, Pochettino's side is one of the few teams in the Premier League equipped to exploit Liverpool's relatively weak central spine.
March 1 looks to be just a few weeks too early for Lucas to make his return from injury, and while Daniel Agger and Mamadou Sakho will likely be available by then, Liverpool don't look like ending their barren run against Southampton here.
Prediction: 2-1 to Southampton
March 10: Sunderland (Home)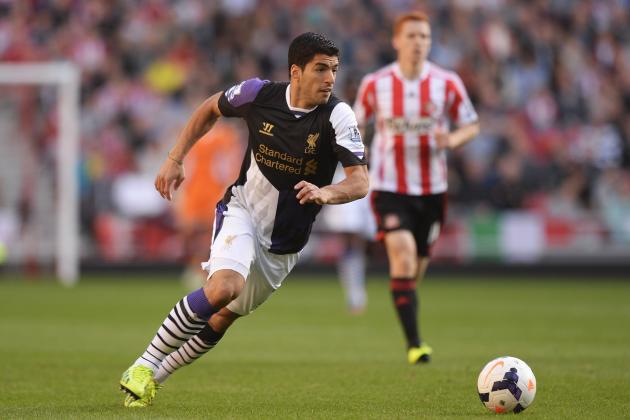 Gareth Copley/Getty ImagesAt the time of writing, Sunderland's 3-0 thrashing of Newcastle United in the recent Tyne-Wear derby is still vivid and fresh in the memory, an indication of how Gus Poyet has managed to improve the Black Cats.
Just a few months ago, Sunderland were languishing at the bottom of the Premier League in a mini-abyss, but now they've clawed and climbed their way back up the table to be level with Swansea on 24 points.
And Sunderland, with an in-form Adam Johnson looking to gatecrash the World Cup and a composed distributor of the ball in Ki Sung-Yueng, look very much like a potential banana-skin fixture for Liverpool on March 10.
Fabio Borini may be ineligible to play against his parent club as part of the loan regulations, but the home side may well be surprised by a sprightly Sunderland side.
Prediction: 2-2 Draw
March 16: Manchester United (Away)
A loss and a draw! Gasp—another mini-crisis developing at Anfield?
Bring on Old Trafford, a ground that Liverpool have historically struggled on, save for that famous 4-1 victory in March 2009.
But this season it's a different Liverpool, and it's an ever-so-slightly-different Manchester United side, who have drawn and lost as many matches at home as they have won (six).
As David Moyes struggles to string together a few decent results in succession for United and his defence continues to rotate due to injuries, this is a fixture that Liverpool could well come on top in—provided that they deal with the considerably talented attacking trio that is Wayne Rooney, Robin van Persie and Juan Mata.
Prediction: 2-1 to Liverpool
March 22: Cardiff City (Away)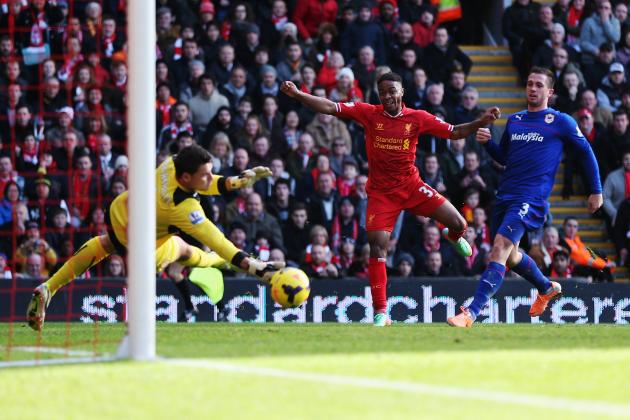 Clive Brunskill/Getty ImagesIt's not been an easy season for Cardiff City, and we foresee that, despite the best efforts of Ole Gunnar Solskjaer, the Bluebirds will still be mired in a tough relegation battle by the time March 22 rolls around.
Sure, they've added some notable names in January—Kenwyne Jones one of them—but as long as Liverpool keep quiet the counterattacking force that is Craig Noone, they should be relatively safe.
The famous Cardiff City Stadium atmosphere has intimidated many a Premier League team this season, but a Reds side looking to enforce their top-four credentials will turn in a display that keeps the critics at bay for another week.
Prediction: 3-1 to Liverpool
March 30: Tottenham Hotspur (Home)
Mention Tottenham Hotspur to any Liverpool fan, and he'll fondly recall the 5-0 December thrashing at White Hart Lane.
That was one of those rare occasions where everything that could've gone wrong for a team did for Spurs, and everything that could've gone right for a team did for Liverpool.
Of course, then-Spurs boss Andre Villas-Boas has since been relieved of his duties, and Tim Sherwood has lifted his Tottenham side to just three points behind the Reds at the time of writing.
But the adventurous style of play Sherwood has instilled in his team has led to such results as a 5-1 hammering at the hands of Manchester City.
Liverpool, with the league's second-most potent strikeforce, could take advantage once again to send out a statement of intent, just as they did in the 4-0 Merseyside derby win over Everton in January.
Prediction: 4-1 to Liverpool
April 5: West Ham United (Away)
Clive Brunskill/Getty ImagesFast forward to April 5, though, and it could be an entirely different story.
Liverpool, so susceptible on set pieces this season, will be facing a menacing and aerially dominant duo in Andy Carroll and Kevin Nolan at Upton Park, and may well succumb to an incessant aerial bombarding.
Mamadou Sakho and Martin Skrtel will put up a good fight against Carroll and Co., but will it be enough against a famously stubborn Sam Allardyce team fighting against relegation?
Prediction: 2-1 to West Ham
April 12: Manchester City (Home)
Just as Southampton and Arsenal have appeared to be Liverpool's bogey teams recently, so Liverpool have seemed to hold their own against Manchester City.
While City have rolled over many a Premier League side in recent years, before last December's controversial 2-1 loss at the Etihad Stadium, City's previous win came in January 2012, with three consecutive 2-2 draws sandwiched in between.
And playing at Anfield is very much a different prospect than the fortress that is the Etihad, despite City's recent (at the time of writing) loss against Chelsea.
Liverpool's attack will have plenty to ask of City's defence, though it'll also be a big ask of the Reds back line to deal with Sergio Aguero, Alvaro Negredo and Co.
Don't be surprised if it's yet another 2-2 draw here.
Prediction: 2-2 Draw
April 19: Norwich City (Away)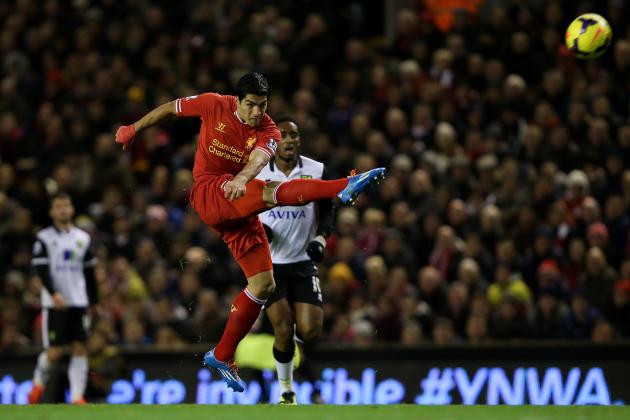 Jan Kruger/Getty ImagesA week after the City clash comes a trip to Carrow Road to take on Norwich City, who have once again flattered to deceive this season.
With just four wins out of 12 and an equal amount of goals scored and conceded (11) at home at the time of writing, the Canaries have had a tough time trying to get going this season, and they look to be fighting relegation right down to the wire.
By contrast, Liverpool will be looking for their first win in April to finish the season off strongly, and as they have done so often in recent seasons, will be in rampant mood against Norwich.
Don't be surprised if Luis Suarez enjoys another one of his now-trademark hat tricks against his favorite opponents.
Prediction: 4-0 to Liverpool
April 26: Chelsea (Home)
Rounding off a relatively tough month of fixtures will be a home match against Jose Mourinho's Chelsea, who will be challenging near the top by the end of April.
Mourinho has traditionally enjoyed a stellar record against Liverpool in the Premier League, and the comprehensive manner of their 2-1 win at Stamford Bridge in December means that Chelsea will travel to Anfield as firm favorites.
Brendan Rodgers has yet to show that his tactical mastery is as accomplished as that of his mentor, though by April 26, unless he encounters any new injuries, he should finally have a fully fit squad at his disposal.
Factor in the Anfield atmosphere and Liverpool's appetite for the game, and we could have a cracker on our hands.
Plus, surely it's time for Fernando Torres to open his account against his old club?
Prediction: 1-1 Draw
May 3: Crystal Palace (Away)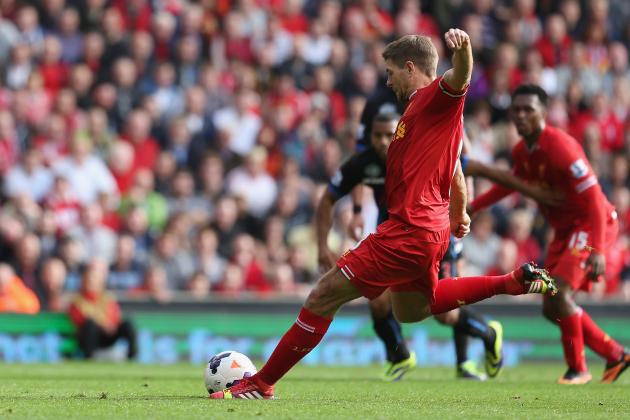 Clive Brunskill/Getty ImagesLiverpool's penultimate fixture for the 2013/14 Premier League campaign is a trip to Crystal Palace, where Tony Pulis has done a considerable job lifting the Eagles out of the relegation zone at the time of writing.
While he may yet lead Palace to Premier League safety this season, Liverpool represent a different prospect altogether.
Thomas Ince, on loan at Selhurst Park from Blackpool until the end of the season, will be eager to impress against his former club, but the Reds attack will surely have too much in their locker, even for a Pulis defence.
Prediction: 2-1 to Liverpool
May 11: Newcastle United (Home)
We'd need to travel as far back as 1994—more than 10 years ago by the time May 11 rolls around—for the last time Liverpool lost at home to Newcastle United in the league.
This matchup has thrown up plenty of no-holds-barred attacking football and goals galore down the years, and Liverpool's last home game of the year looks to be no different.
The difference for Alan Pardew's men? They don't have Yohan Cabaye anymore: The French midfielder, who left for Paris Saint-Germain in January, has scored a few good goals against the Reds in recent seasons.
Does that give the license to Liverpool to end their season on a high at Anfield?
You bet.
Prediction: 5-1 to Liverpool
Conclusion: 75 Points, Just Enough for Fourth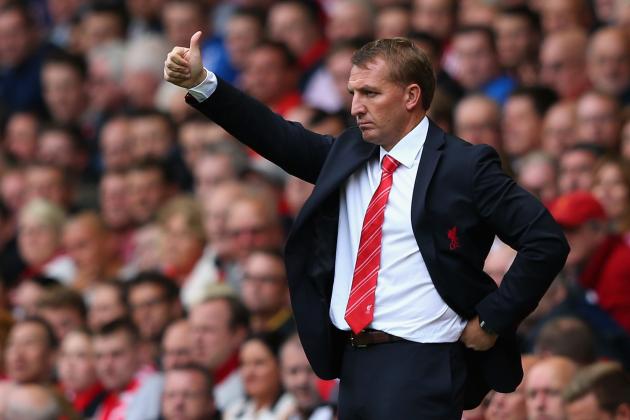 Alex Livesey/Getty Images
All the predictions above culminate in 28 additional points for Liverpool on top of their current haul of 47 at the time of writing, giving the Reds a season total of 75 points.
Would that be good enough to take Liverpool into the Champions League next season?
Well, as a reference, in the last five seasons, when the Reds have failed to finish in the top four, the points total for the fourth-placed team has fallen between 68 and 73.
Perhaps even in an extremely tight Premier League season, 75 points would do the business.
This article first appeared on Bleacher Report, where I contribute regularly on Liverpool and the Premier League.